Alibi Agency: EXCUSES & SOLUTIONS FOR EVERY SITUATION
A large number of partner companies to choose from and over 2700 freelancers help create the perfect alibi. 
Which of your problems would you like to have solved? Call us!

---
Step 1: We will listen to your problems & discuss your options
Helping clients, we have over 20 years of experience as Alibi Pros and Freedom Managers.
---
Step 2: Implementation / Execution
Finding a solution usually doesn't take long and implementation can typically start right away.

---
Step 3: Be Stress-Free & Happy
Whether you need help with a one-time situation or long-term double life arrangements, we are here for you.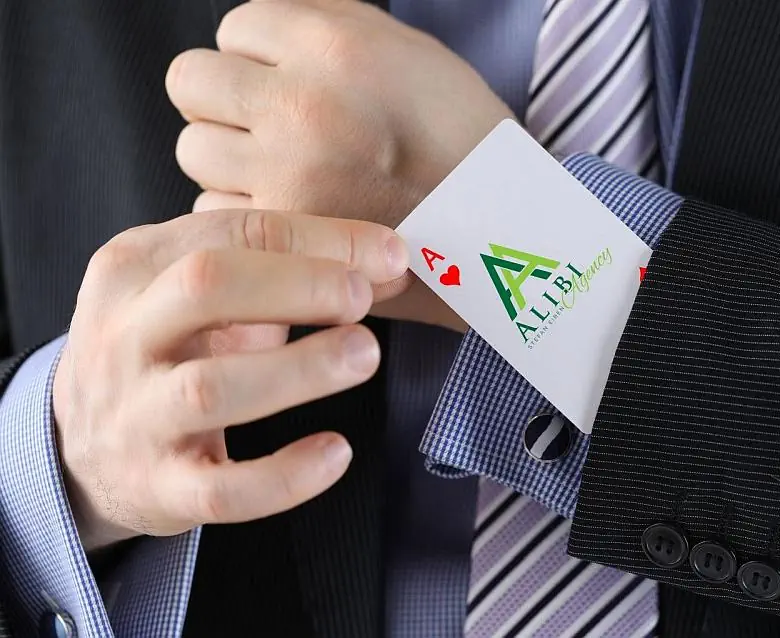 We are a specialized team of professionals
Let's talk about your situation either over the phone, via e-mail or Whatsapp.
We look forward to creating the perfect solution for you.
Alibi Agency:
Lying can avoid problems and develop into a form of kindness.
Keeping the truth from coming out, squashing even the smallest doubts and enabling our customers to live a stress-free life, THAT is the business model of the Alibi Agency owned by Tom Kaules and Stefan Eiben. Our alibi service offers women and men airtight and creativly crafted excuses backed-up with the corresponding proof.
Our experienced Freedom Managers who perfom their duties for our service are the heart of our unusual business and have been helping customers life care-free lifes since 1999, well over 20 years now. 
The made-up scenarios, which would be considered lies, are not malicious or negative, but often a necessity to protect someone's privacy, their reputation or their families. All we are do, is to do right by other people. To avoid anyone getting hurt and to prevent arguments or other scenarios that could escalate.
We make sure our customer's secrets, stay secret.
In the year 1999 the first Alibi Agency worldwide was founded in Germany.
To this date the Alibi network spans across the entire globe with it´s own operational headquarter in the US.
Part of the Alibi services we offer are, for example; falsified lie detector test results and fake phone calls.
Not wanting to explain oneself is a common reason the Alibi Agency is contacted. Every week, our Freedom Managers hear a multitude of unique life stories. Some are simply unbelievable, while others inspire sadness or can even put a smile on ones face.
"We don't burden ourselves with ethical concerns. In fact, the opposite is true. We feel quite terrible, when we are unable to help a person. If someone can't handle the truth, then they don't need to be surprised when it's kept from them", is the opinion of the owners.
The Alibi Agency offers the following services:
• A flat rate for lying to protect your double life.
• Fake lie detector tests.
• Fictional calls from supposed co-workers.
• Fake business invitations nationwide and worldwide.
• and much more...
It is not uncommon for actors and actresses to be used for the alibis. Over 500 partner companies worldwide supporting every alibi with documents, certificates or invitations. Real life is sometimes more surreal than a movie.
The Freedom Managers can lend a helping hand in any situation and can even have mail sent from anywhere in the world to a specific address – without the customer ever having to leave the house. By the way, this would include the original handwriting of the client. Our freelance actor and actress network, which is over 2,700-person-strong can act as onboard couriers, shadow someone or carry out secret missions.
All of this is a piece of cake for the experts at the Alibi Agency. Other items that might be necessary could be fake business cards, bills and fictitious proofs of employment or even a mocked red carpet events with hired audiences and camera crews.
We can make the impossible possible – while sometimes even making miracles.
Many customers use the global Alibi network to cover up secret affairs. We can assure you that all cases are completely confidential and treated with absolute discretion by the Alibi Agency.
Many alibis require diligent preparation, experienced employees, a good hand for logistics and a talent for improvisation.
Our story: Born from a spontaneous idea after a canceled guy's night out.
The Alibi Agency was created based on one of the founders (Stefan Eiben) personal experiences with two of his friends. Both of his buddies canceled their plans for the evening on short-term notice. Both of them had the same reason: Their girlfriends did not want their boyfriends to go out. For Stefan Eiben this ruined night was the start of a worldwide Alibi Agency with the goal to help people in situations like these and also more serious ones, so that they can live a more free life.
With a degree in computer science under his belt, he spontaneously launched a website for excuses that very same night. On the page, he offered up his help. The success he has had with this concept since then still amazes him to this day. Back in 1999, the alibi expert would have never thought that a worldwide network of reliable helpers and companies would develop and support him in delivering perfect alibis.
Alibiagency perfect excuses and alibis with proof
The one thing most people think of first, are extramarital affairs. But in reality, there are many women and men who utilize the service for a number of other problems. Anything that's legal can be taken care of.
Over two decades, the Alibi Agency has weaved an entire alibi network. The core of the business consists of ten employees, supported by a raster of over 2,700 freelancers. They all see themselves as a helping hand to those, who are looking to prevent their own personal truth from coming to light.
There are very few jobs that the Freedom Managers reject. This typically only happens in cases, where an alibi is requested with the goal of breaking the law, meaning someone needs an alibi for legal reasons. Of course, that's a big no-go for the Alibi Agency team.
However, the alibis that the agency does agree to put together are airtight, according to him. Over the years, not a single alibi has ever been outed.
Many customers get tangled up in their own web of lies and therefore end up triggering suspicions. But with the Alibi Agency's support we can help you put even the most difficult, the most desperate situations behind you. Before anyone passes judgement, please consider that life's complexity is often underestimated. You shall not lie is easier said than done, because the employees often hear desperate customers crying on the phone or being so traumatized, that they cannot even get a single word out.
Diverse Customer Base, Custom-Made Alibis
Women and men are utilizing the agency's services equally. The only difference is, that female customers usually already have an idea in their mind what the alibi could look like, while men are looking for a bit more guidance and advice.
Customers include people who are currently out of work, trying to keep their situation under wraps, housewives with their secrets, police officers who lead double lives, lawyers who are secretly into femdom/ going to dominatrixes, business people and students with other little secrets.
Someone who is looking to keep their second job as an escort private is just as welcome to the agency as someone who is looking to have regular visits with his/her illegitimate child for example.
The scenarios offered by the Alibi Agency are creative and professional. To ensure that the solution will be successful, we usually go a step further than most customers would be able to go on their own, thus creating truly airtight alibis.
If necessary, former customers will also step in and help. As an example when asked via phonecall, they pretend that a person is employed by them.
In fact most of the partner companies are run by former customers, which strengthens mutual trust and greatly simplifies the cooperation between the parties.
The wish for freedom is a natural desire.
Alibiagency perfect excuses and alibis with proof.

Due to moral restrictions placed on us by society, many people are not able to live the life they envision for themselves.
Thanks to the Alibi Agency you can rest easy. You only have one life, make the best of it.
We are looking forward to hearing from you!
Here a small overview of our services, alibis and freedoms. Beyond this, we offer help for all types of unique, complicated and even serious situations. "Live your life!"
Alibi Agency experiences and services:
Alibi

Make anonymous online purchases

Silent Concierge

Rent a girlfriend

Rent a person

Rent a boyfriend

Modify files or PDF

Alibi Relationships

Secret Double Life

Rent a mailbox

Rent a bridesmaid

Purchase online reviews
Fake an absence

Make an anonymous payment

Manipulate the lie detector

Win your ex-girlfriend back

Become a star

Collect person debt

Phone or chat alibis

Private courier

Mystery shopping

Book an actor

Rent a funeral guest

End a relationship