"It wasn't me!" Nevertheless, someone must have done it, and that's exactly the person we provide.
Someone who will stick his neck out for you and take the blame.
Historically, the scapegoat served the purpose of reconciliation. It was a goat which was sent into the wilderness loaded with sins.

Similarly, we create the appearance. Trust our long experience and creativity. A skillful actor can play the scapegoat for you through a cleverly plotted story and save you from harm or reprisals. In many cases we save marriages and relationships.
With a clever story, a scapegoat can save your relationship.

Taking the blame for someone else.

A customer called us in a panic that there were clear traces of sex on his sofa from his affair. They had not been paying attention and his mistress had her period. In a few hours his wife would come home, and he couldn't come up with an excuse.
In the end, his relationship was saved very quickly and easily.
Family disputes or partnership quarrels can be cleverly settled.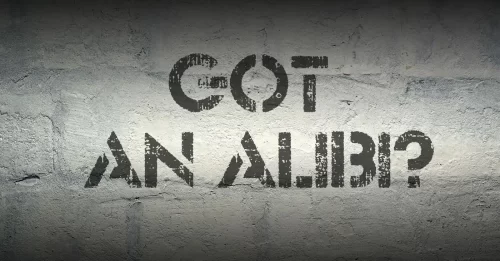 It wasn't me!
A client, due to a misunderstanding and involvement in strange circumstances, no longer had contact with her parents. They broke off contact with their daughter and no longer responded to messages.
Only through a scapegoat, who took the blame on himself, could the dispute with her family be settled.

Quarrel with the boyfriend and trouble with the girlfriend? Can't it be someone else's fault?
A client had been seen sitting in a restaurant with another woman by candlelight. A friend of his wife
recognized him through the window. Desperate, he called us and immediately got a credible story
that saved his marriage.

Restore the family idyll through a scapegoat.
A cleverly used scapegoat, who plays his role perfectly and credibly, can even turn the tables. We turn it around in such a way that the partner then even apologizes for the suspicions, accusations, and possible insults.

The relationship is saved.
We provide you with the culprit including a watertight story. You yourself have no consequences to worry about.

Rescue and rebuild friendship.
Accusations and blame.
One of our very persuasive employees can also take the fall when it comes to longstanding friendships, business, or family issues.

If someone else admits guilt, you're off the hook.
The joy is often great because the people calling us saw no way of saving themselves. However, we have much more complicated requests and after 20 years practically any help is on file.
Sometimes the accusations are completely made up and there are nasty plots behind them. You can defend yourself against this immediately.

Finally put an end to emotional blackmail and unwarranted blame.
Like our manipulated lie detector test, a scapegoat can also free you from extreme and seemingly hopeless situations in life. We will provide those who are so entangled in their personal lies so much that they can no longer find a way out with the necessary the necessary alibi/evidence/proof of their
innocence.